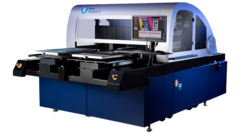 Kornit Storm II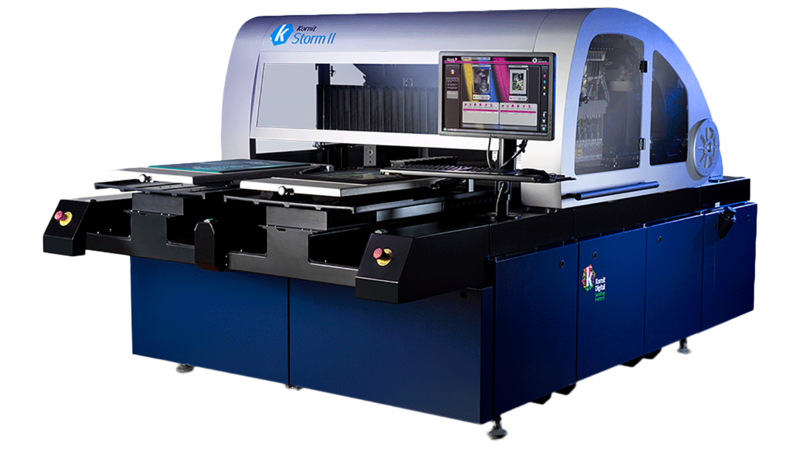 Kornit Storm II
The industrial digital garment printer
Advantages and features
Developed specifically for high-volume production
1.5 liter bulk ink system for uninterrupted operation capability
Dual-pallet set up for non-stop productivity
Large print areas of up to 20 x 28 in / 50 x 70 cm for XXL garments and cut pieces
Outstanding printing on Multiple fabric types.
Fully automated web-to-print workflow
Skips non-printing areas for higher efficiency
The direct garment printer for high-volume production
Kornit Storm II – The industrial digital garment printer
The Kornit Storm II is the ideal digital direct to garment printer that answers the needs of high-volume production printing businesses. Created to accelerate your production speed and volume, users enjoy unparalleled print quality, fast turnarounds, and high profitability. Efficiently and cost-effectively attain your optimal printing results for custom high-level Direct to Garment production with this digital garment printer.
The Kornit Storm II provides a non-stop production workflow that enables garment loading while printing. It features dual-pallets, 1.5 litre bulk ink system, fully automated processes and an advanced user-friendly front-end. Specifically engineered for 24/7 non-stop industrial use, the advanced machine controller enables multi-function operational efficiency that also increases your production speed. Designed to handle a wide range of garments and textile applications (even up to XXL and cut pieces!), this direct garment printer is the ideal choice for businesses already at a high-production level or screen printers looking towards hybrid apparel decoration.
Main Features
Developed specifically for high-volume production
1.5 litre bulk ink system for uninterrupted operation capability
Dual-pallet set up for non-stop productivity
Large print areas of up to 20 x 28 in / 50 x 70 cm for XXL garments and cut pieces
Advantages
Non-stop production workflow that enables garment loading while printing
Full operational and production control with only one person working the machine
8 height-adjustable industrial Spectra Piezo Electric print heads for printing over zippers, buttons and raised objects
Oeko-Tex 100 safety applications for infant wear, Global Organic Textile (GOTS) and American Association of Textile Chemists & Colorists (AATCC) certified to meet the strictest industry standards
Specs
| | |
| --- | --- |
| Print heads | 8 Heads |
| Max printing resolution | Up to 630 dpi |
| Ink Channels | 4 Colours CMYK & White |
| Max Production output | Light garments : 120 Dark Garments: 65 |
| Printable Substrates | Cotton, polyester, cotton-polyester blends, lycra, viscose, silk, leather, denim, linen, wool & more. |
Make an enquiry now
Register your interest in the Kornit Storm II now. We guarantee you won't be disappointed.