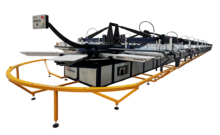 Adelco Matrix Oval Screen Printer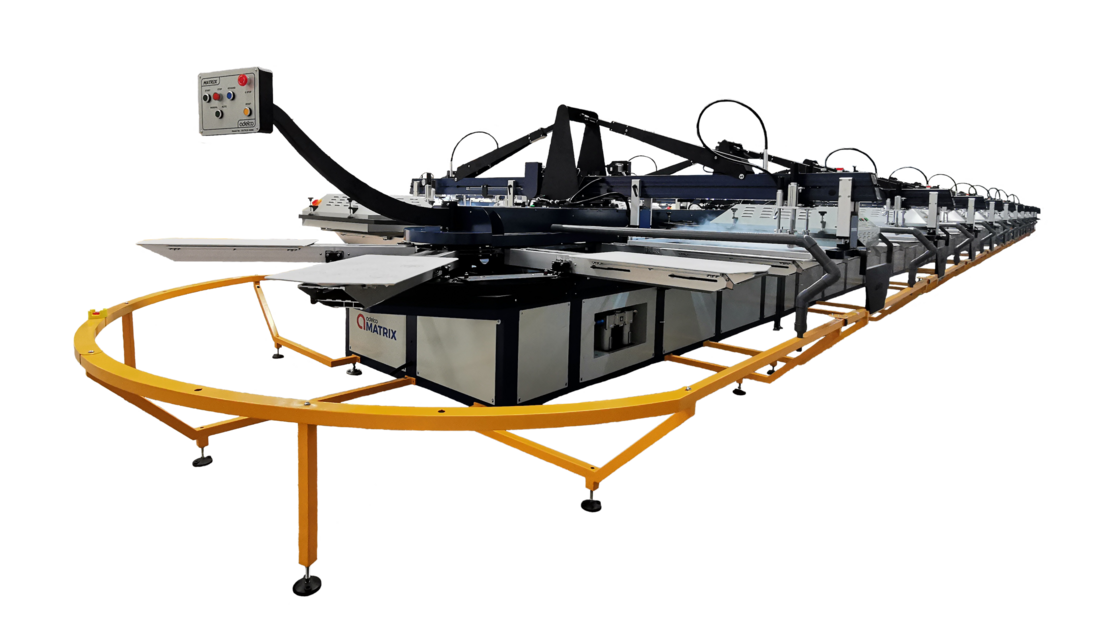 Adelco Matrix Oval Screen Printer
The versatile Adelco Matrix Oval screen printer provides more versatility for high-production runs.
Key features of the Adelco Matrix Oval Screen Printer
Modular and expandable
Precision in motion
Safe
High Production
Strong and stable structure
Smooth and quiet operation
Adelco's versatile and unique Screen Printing Option
The Matrix Oval screen printing machine from Adelco offers a more efficient use of space thanks to its oval-shaped design. It offers greater stability with larger print press areas than comparable carousel based machines. The Matrix Oval printer provides more versatility with multiple flashes, cooling and specialty print stations, providing the most demanding ecological print solution
Available in three standard print size formats, the Matrix can be configured for almost any production requirement with up to 66 pallets and print stations. Its servo driven print heads enable cycle times in excess of 900 prints per hour.
It has a unique rail and drive system quality that ensures almost silent operation, creating a quiet garment print-shop environment.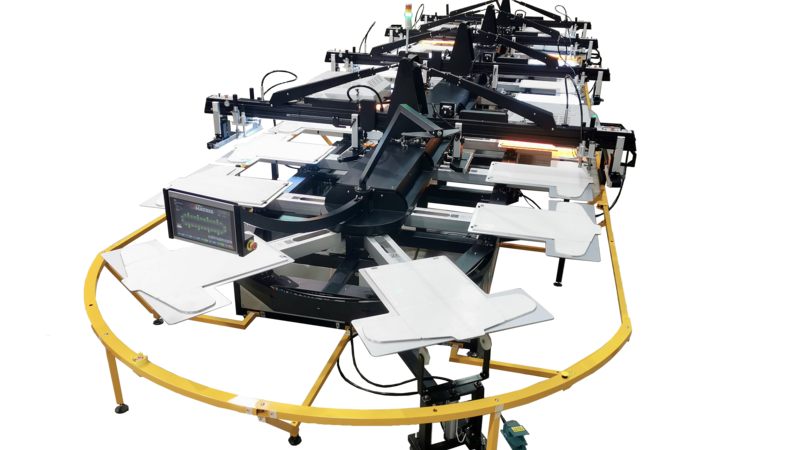 Adelco All Over Oval
We are proud to launch the new Adelco All Over Oval, an automatic printing press that prints on every part of the shirt, including sleeves.
This comes with all the features of the Adelco Matrix Oval as standard.
Seeing a need in the industry for a screen printing Oval to print on all parts of the garment in one movement and after much research and development, the All Over Oval was born. This solution saves an enormous amount of cost and time.
The Oval is built to a high specification and comes with all the high-end features that the Matrix screen printing solution offers.
Keeping your Matrix screen printing machine safe
Pallets are securely locked with hardened locators. Indexing to an accuracy of +/- 0.02mm.
Safety barriers, proximity sensors, and safety lasers run the full length of the machine that immediately stops the machine if activated. The Matrix Oval is designed with safety as a priority, with worldwide renowned certification.
Unparalleled support of print heads & pallet arms during the print cycle for exceptional print quality and repeatability.
To find out more about the Adelco Oval Matrix screen printer, please download our brochure or contact us.
Full features and advantages of the Adelco Matrix Oval Screen Printer
Modular design offering flexibility
Servo driven index
Fast, smooth & quiet chainless rail system
Sealed print arms
Servo driven print heads
Quick release horizontal pneumatic screen clamping
Large bore squeegee cylinders
Quick-fit squeegee & Floodblades
Front & rear tool-free micro adjustment
Easy tool-free front & rear off contact adjustment
Advanced PLC control system & HMI interface
High density print mode
Auto lift print heads
Increased space between pallets
Rigid pallet arms
High grade solid aluminium quick-release pallets
Electrical requirements ≤ 28 stations
1 phase 220v (2kw + 750w per print head)
Electrical requirements > 28 stations
1 phase 220v (4kw + 750w per print head)
Air supply pressure
100psi / 7bar
Air supply CFM (per print head)
3 CFM
Image area (small)
45cm x 60cm (18" x 24")
Image area (medium)
50cm x 70cm (20" x 28")
Image area (large)
60cm x 80cm (23.5" x 31.5")
Maximum frame size (small)
64cm x 100cm (25" x 39")
Maximum frame size (medium)
69cm x 110cm (27" x 43")
Maximum frame size (large)
79cm x 120cm (31" x 47")
Maximum machine width (small)
363cm (143")
Maximum machine width (medium)
398cm (157")
Maximum machine width (large)
418cm (165")
Machine length
Depends on format
Maximum stations
66 stations
Make an enquiry now
Register your interest in the Adelco Matrix Oval Screen Printer now. We guarantee you won't be disappointed.