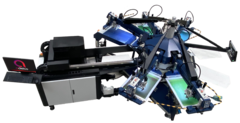 Adelco Hybrid Digital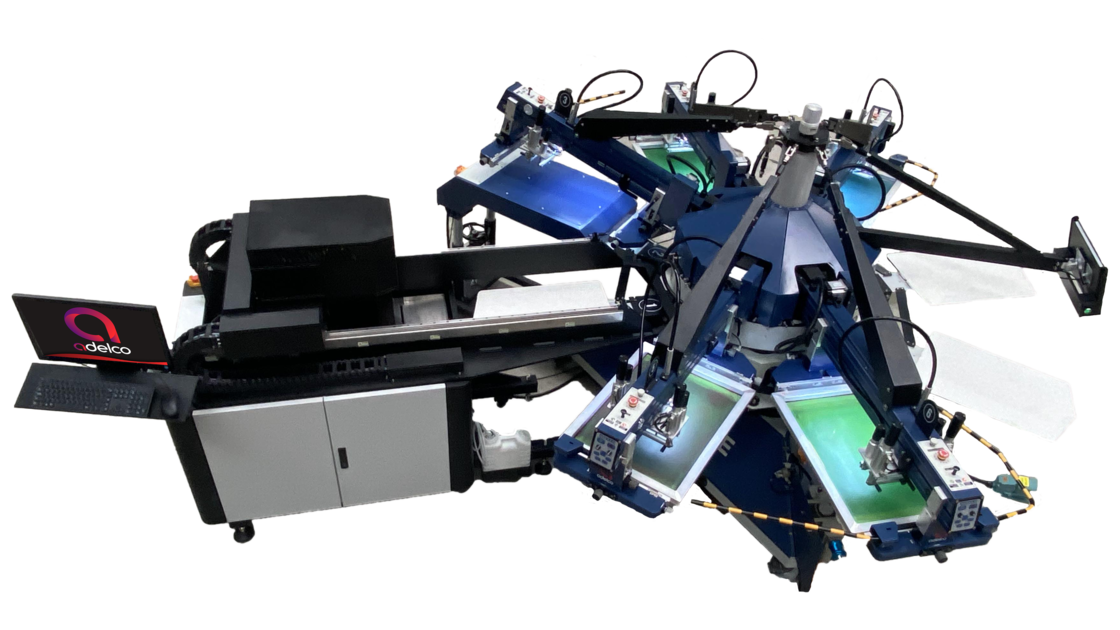 NEW
Adelco Hybrid Digital
A high-speed digital textile printing system that works seamlessly with our automatic screen printing presses with the lowest ink cost per print.
Key features of the Adelco Hybrid Digital
Eco-Friendly Printing - Utilising sustainable inks to produce A3 format prints at a remarkable rate of over 350 units per hour.
Cost-Effective - When combined with a screen-printed base, it ensures minimal ink usage per print.
High-Speed Digital Station - Specifically designed to complement the Cyclone Carousel, Matrix & Ellipse Oval Models
Space-Saving Design - Introduce a digital dimension to your printing operations without compromising on space.
Softest hand feel on the market
Worldwide support network
Industrial grade Ricoh print heads
High Speed Digital Station Add On for the Cyclone Carousel, Matrix & Ellipse Oval Models
A Closer Look at the Adelco Hybrid Digital Printer
Adelco's Hybrid Digital Printer is a state-of-the-art High-Speed Digital Station, meticulously designed to work in tandem with our esteemed Automatic Screen Printing Presses. This hybrid gem harnesses the best of both Screen and Digital Printing, facilitating the creation of even the most detailed garment designs.
With a staunch commitment to sustainability, our Hybrid Digital Printer employs eco-conscious inks, capable of crafting A3 format prints at unparalleled speeds. Paired with a screen-printed base, it guarantees the industry's most competitive ink costs.
Elevate Your Printing Standards with Adelco's Hybrid Digital Printer
Featuring robust Ricoh print heads, our printer ensures stability, longevity, and the capability to craft intricate designs. With a swift setup process, it negates the need for costly separations or screen production. Experience the flexibility of merging digital print with a range of effects, all within a single apparatus. With attributes like an integrated humidifier, ink recirculation system, and unparalleled precision, the Adelco Hybrid Digital Printer stands as a beacon of Hybrid Printing innovation in the UK.
Why Professionals Choose Adelco's Hybrid Digital Printer?
Robust Ricoh Print Heads: Ensuring stability, long life, and precision for intricate designs.
Quick Setup: Eliminating the need for expensive separations or screen production.
Unrivalled Versatility: A harmonious blend of digital print with spot colour, high build, and a myriad of special effects.
Advanced Features: Built-in humidifier, ink recirculation system, unmatched precision, and a comprehensive ink supply mechanism.
The Intricacies Behind Hybrid Printing
Hybrid printing isn't merely a blend of two techniques; it's a scientific method to harness the best of both realms. Here's the science behind it:
Ink Adhesion: The screen-printed base offers a textured surface, enhancing the adhesion of the digital inks, ensuring they remain crisp and clear.
Vibrant Colours: The synergy of screen inks and digital inks yields richer and more vivid hues. The screen-printed base provides brightness, whilst the digital inks add depth and nuance.
Efficiency & Speed: By capitalising on the swift setup of digital printing and the mass printing capabilities of screen printing, hybrid printers can craft vast quantities without sacrificing design detail.
Why Opt for Hybrid Over Traditional or Pure Digital?
Selecting the Adelco Hybrid Digital Printer presents numerous advantages over solely traditional or purely digital methods:
Versatility: Hybrid printers adeptly manage both large-scale, straightforward designs and small-scale, intricate patterns.
Cost Savings: While digital printing can be pricier for large batches due to ink costs, merging it with screen printing curtails the overall expenditure, especially given Adelco'scompetitive ink pricing.
Design Depth: Craft designs that are unattainable with a singular method. For instance, a screen-printed metallic base can be accentuated with digital nuances and gradients for a 3D effect.
Prompt Turnaround: Hybrid printing trims the setup duration, especially for intricate designs, ensuring expedited order fulfilment.
Sustainability: With Adelco's eco-friendly inks and the reduced requirement for multiple setups or screens, hybrid printing emerges as a greener choice.
Excellent – practical sales advise, good technical back up. They have made the process of entering the digital market seriously so much easier. They are professional with excellent customer service. I would recommend them without a doubt.

Graham Ridley, Retro Activewear, UK
Full features and advantages of the Adelco AD Hybrid
4 & 6 colour model options available.
Printing resolutions of up to 600 x 1800 dpi
Easy to maintain print heads.
Worldwide support network.
Market-leading finish.
Bolt-on product for the Cyclone Carousel, Matrix and Ellipse Oval screen printers.
Unique design to ensure the printer does not take up too much space
Capable of printing up to 350 pieces per hour.
Prints on fabrics including cotton, linen, silk, nylon, polyester and more.
Built-in humidifier and ink recirculation system.
Industrial grade Ricoh print heads.
Adelco Hybrid in Operation
FAQs about the Adelco Hybrid Digital Printing System
What distinguishes the Adelco Hybrid Digital Printer?

A seamless blend of digital and traditional screen printing, it facilitates intricate designs and special effects in one go.

How does it enhance print quality?

With robust Ricoh Print Heads, it ensures stability, longevity, and detailed designs with peerless precision.

Is it environmentally friendly?

Absolutely! Our dedication to green printing practices shines through with our use of sustainable inks.

How does it fare against traditional screen printing?

While traditional methods excel in bulk, vibrant prints, our system crafts detailed designs without necessitating multiple setups.

Can it be integrated into existing setups?

Crafted as an extension for various Adelco models, it promises smooth integration.

The Adelco Hybrid Digital Printer isn't merely a machine; it's a testament to Adelco's unwavering dedication to innovation and excellence. By melding the time-tested with the contemporary, we empower businesses to lead the way, ensuring every print is an unparalleled masterpiece.
Colours
CMYK or CMYK+RG
Printing Resolution
600x1200dpi, 600x1800dpi
Printing Fabric
Cotton, Linen, Silk, Nylon, Polyester, Viscose, etc
Max Print Area
600 x 800 mm
Ink Type
Pigment Ink
Max Speed
350 Pcs/Hr
RIP Softwear
Caldera
Make an enquiry now
Register your interest in the Adelco Hybrid Digital now. We guarantee you won't be disappointed.