Kornit Avalanche HD6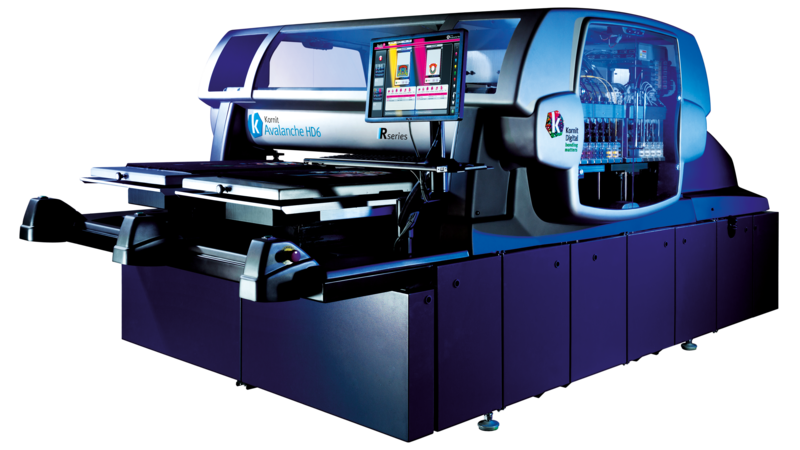 NEW


Kornit Avalanche HD6
A robust digital printer with HD print capabilities and low ink consumption, the Kornit Avalanche HD6 is the perfect solution for high-volume production.
Advantages and features
Significantly Lower Ink Consumption to Reduce Print Costs
More Robust and Consistent Printing Results
Integrated Ink recirculation & Humidity System
Print on multiple fabric types, both light and dark
Avalanche HD 6, based on superior NeoPigment™ Rapid ink and advanced print technology:
The Kornit Avalanche HD6 has been built to reduce ink consumption and considerably lower your average costs per print, while maintaining high productivity and excellent print quality.
With 30% more colour options this direct to garment printer has the widest colour gamut. With refined and softer hand feel, this machine ensures continuing customer satisfaction on any size print run.
The Kornit Avalanche HD6 is ideal for customers wanting high productivity
New capabilities and features are available in the upgraded QPP 6 software
Supported by ColorGate Professional RIP tailored for Kornit HD
The printing quality of the HD6 gives robustness and consistency
White plus CMYK (HDK) or CMYKGR (HD6) colour configurations
Uptime and ink savings delivered by the "Ink Recirculation" technology
NeoPigment Rapid is compliant with environmental standards like Oeko-Tex Standard 100 and GOTS V5 pre-approval
Upgrades from Kornit Avalanche 1000, Avalanche 1000 R and Hexa R
Greatly improved printing efficiency
The increased pigment load ratio and reduced drop size allow for a high-quality print, whilst using less ink per print. Customers have seen their printing cost shrink by up to 45%, which not only helps the environment but you get a healthier return on investment.
"Multiple Kornit customers have now completed their evaluation of the new system generation, confirming the cost per print savings and print quality improvements."*
Delivering consistent high-quality garment printing:
You can configure up to 6 colours giving you more customisation options.
Ultimate white ink performance and solid opacity.
Great garment printing on numerous types of fabric.
You get photo-realistic and detailed designs direct to your garment.
You can print on light, dark and coloured garments.
Softer hand feel
"The reduced cost per print gives users of Kornit's HD technology a drastically improved competitive edge against conventional screen printing."*
*Source: https://www.kornit.com/kornit-digital-receives-multi-million-dollar-orders-for-recently-announced-kornit- avalanche-hd6/
Specs
| | |
| --- | --- |
| Print Heads | 20 Heads |
| Max printing resolution | Up to 1,200 dpi |
| Ink Channels | 6 Colours CMYKRG & White |
| Ink recirculation system | Integrated R Series |
| Max Production output | Light garments: 150 Dark garments: 110 |
| Printable Substrates | Cotton, Polyester, Cotton-Polyester Blends, Lycra, Viscose, Silk, Leather, Denim, Linen, Wool and more |
| Humidity System | Integrated |
Related case studies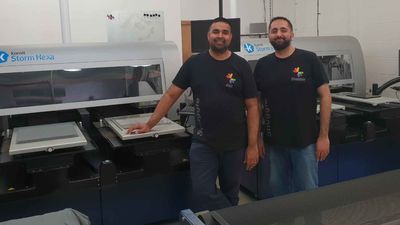 Kornit Storm Hexa / Kornit Avalanche HD6
Peterborough based Snuggle embrace the future as they move to DTG
Read the case study
Make an enquiry now
Register your interest in the Kornit Avalanche HD6 now. We guarantee you won't be disappointed.