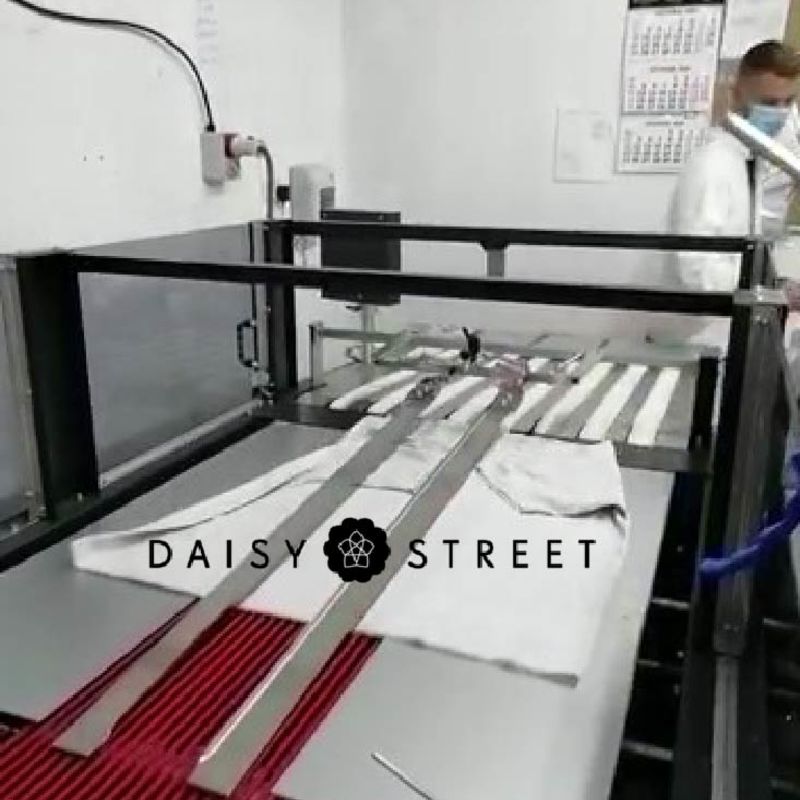 Case study
Daisy Street
Manchester based fashion brand
History
Daisy Street have just had the Thermotron automatic folding and bagging solution installed into their premises. Luke Smith from Adelco had a Q & A with Tay Singh the founder at Daisy Street about his latest purchase.
Tell us a little about your business?
Daisy Street is a women's fashion brand, selling wholesale as well as selling direct to retail on our own website.

Daisy street was launched in 2012 in Manchester, and is a fresh, contemporary, trend-led label. Inspiration for our lines are taken from the skate scenes, the States and vintage graphics. Offering oversized tees, sweatshirts, cardigans and dresses alongside many other popular ranges.
What is the latest folding line you bought?
In October 2020, we bought the Thermotron folding line, which includes the STP100 folding machine, designed to fold all shapes and sizes of garments quickly and efficiently, PV40 bagging machine, and the KL60 Sealing module which uses adhesive tape. This line can fold and bag 5,500 garments per eight-hour shift.
When & why did you buy it?
The folding and bagging line was installed in October 2020. We bought these machines to increase our weekly capacity for reprocessing garments, and to save money on labour costs.
What other machines on the market did you look at when considering this purchase?
We looked at the M & R Amscomatic machine, as well as the ROQ and Dekken systems.
Why did you choose the Thermotron machines?
Cost was a consideration, the Thermotron machines were less expensive, but it was the service Adelco was offering put it over the line.
What is it like to use, any tips?
Practise makes perfect, the machines come with plenty of settings to work with. The more you use it the more you will become accustomed to it.
What types of runs do you do on the system?
We fold 1000's of garments per style per SKU. Very high volume and high capacity runs.
What would your advice to others regarding buying these machines?
Buy one, depending on the scale of your business, the capacity the Thermotron with two people outstrips three or four packers. Thus reducing your labour cost by a minimum of two, with output staying the same.
Machines featured in this case study