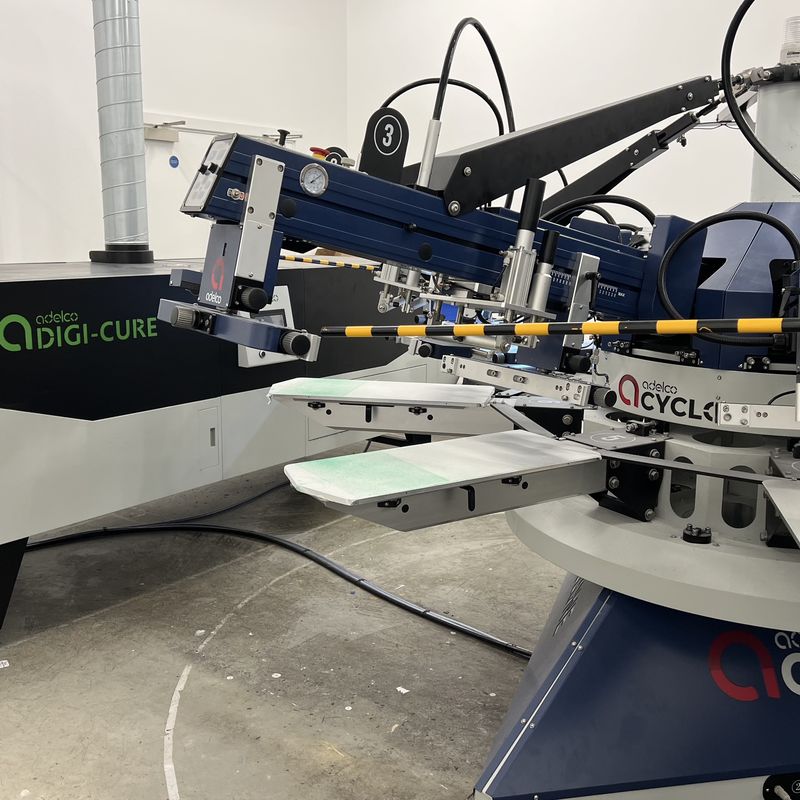 Case study
Innovation School wear
Adelco Cyclone Auto Carousel

Innovation School Wear are a family-run wholesale school wear business, based in north London. They have continually implemented change throughout their five decades in business in order to stay relevant and grow with their customers. Through experience and listening to customers the three key values that they direct the business on are "quality", "service" and "reliability".
Innovation School wear offer embroidery and printing services for schools. One of the most popular and long-lasting methods of printing they offer is screen printing. They have been using a manual press for some years now.
We spoke to Samuel Cohen, Director at Innovation to chat through his recent purchase of an Adelco automatic Cyclone carousel printing press.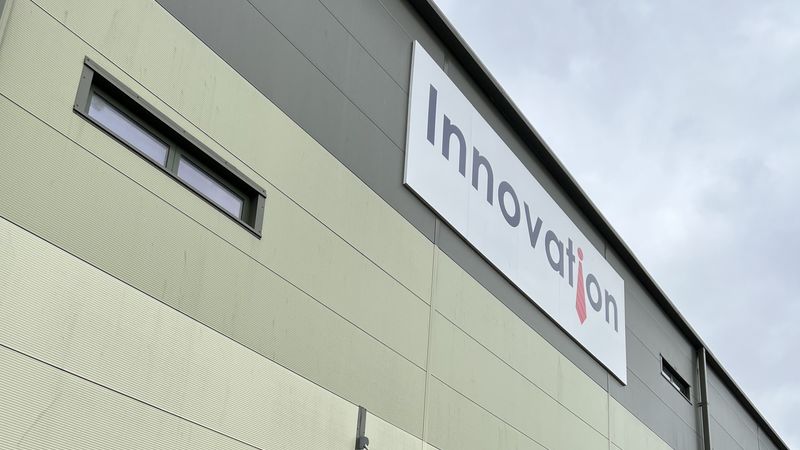 Upgrading
Innovation for some time has been having problems with keeping up with production. In terms of getting the orders out of the door. They were also needing a more consistent quality of print.
In addition to being able to keep up with orders, their workers were getting worn out, especially during peak seasons. It is physically hard work using a manual press all the time, this was ultimately affecting the capacity to take on bigger workloads.
They then looked around the market for an automatic screen-printing carousel to fit into their company.
Why the Adelco Cyclone for Innovation?
We wanted the newest automatic machine on the market, one that has all the latest features and technologies incorporated into the machine. Adelco have a proven track record with their machines.

We had a relationship with Adelco as we have bought a dryer from them, and we were looked after well. This is an important part of the support. Knowing that if any issues arise Adelco can be relied on. This was a natural progression.

Having all the bells and whistles included was appealing, as well as being able to have a standard operator running the Cyclone rather than a skilled print screen printer, which is a huge advantage.

Samuel Cohen, Director, Innovation School Wear, UK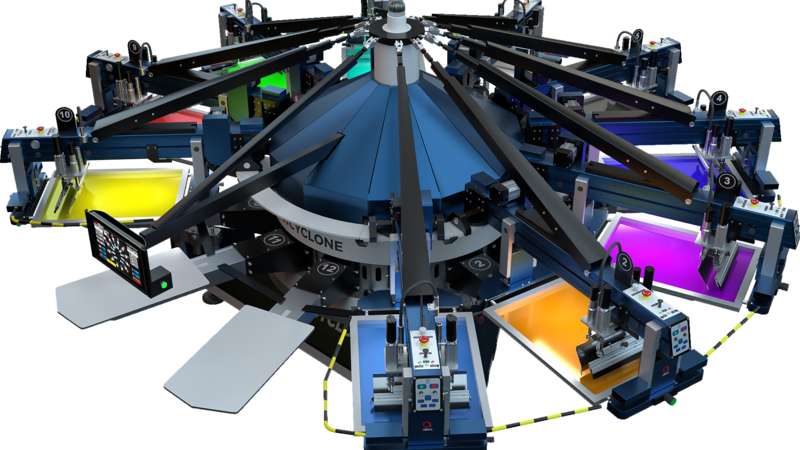 Where there any obstacles in the way from buying this machine?
The biggest obstacle out there is called an invoice! Buying any capital equipment during this current economic crisis has additional financial risk.

We have not had an auto machine before, we don't know if it will work for us until it is installed and working.

Samuel Cohen, Director, Innovation School Wear, UK
How were these obstacles were overcome?
Will it pay for itself? I needed to be comfortable with the return on investment. Luke reassured me on this. The Cyclone was part of a bigger package including a dryer and a flash cure.

By seeing the added value, it gives the company in the short term, pushed us over the edge to buy the machine.

Reduced outgoing costs, compared to labour costs, this investment does not have the same issues, the machine operated as efficiently whatever day it is. No ongoing labour costs

Samuel Cohen, Director, Innovation School Wear, UK
Once the Cyclone Auto carousel was installed, what were your thoughts?
Already we can see that we have an operator who isn't tired at the end of the day, this is very important to us.

Production has definitely increased and therefore we can fulfil more orders, which will save us money in the short term.

We were proud that we got to this point from a manual machine, with two dryers and an automatic, it is a good feeling to get that natural progression.

At the moment the Cyclone is new to me, we are at the point where we are working through the system, as a busy man it will take time to invest in learning the system.

Samuel Cohen, Director, Innovation School Wear, UK
The future!
Samuel commented on the future plans for Innovation School Wear:
"For the future, We are also potentially looking at the Adelco Hybrid Digital for the future, this will save tons of time."
Adelco are a family business like ourselves, they take the time out for us, Phil and Luke take the time to visit us, we are not just a random sale. They treat everyone the same, big and small companies alike.

I didn't want to waste my time or take the risk with anyone else; I know that I will be looked after by Adelco.

Adelco are professional and friendly, and I wouldn't have come back if I wasn't happy, Adelco are very supportive and they are there when I need them, it is good to know we have people who are there for us. Happy overall, a nice experience to deal with people who care about your business.

Samuel Cohen, Director, Innovation School Wear, UK
Is there anything you would like to add?
Finally we asked Samuel if there was anything he wanted to add.
"Luke, where is my discount please, rebates are allowed !!!!"
We wish Samuel and all at Innovation School Wear much success with their new carousel, and look forward too many more years of working together.
Machines featured in this case study