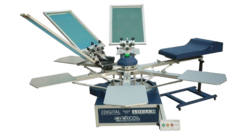 Adelco Cyclone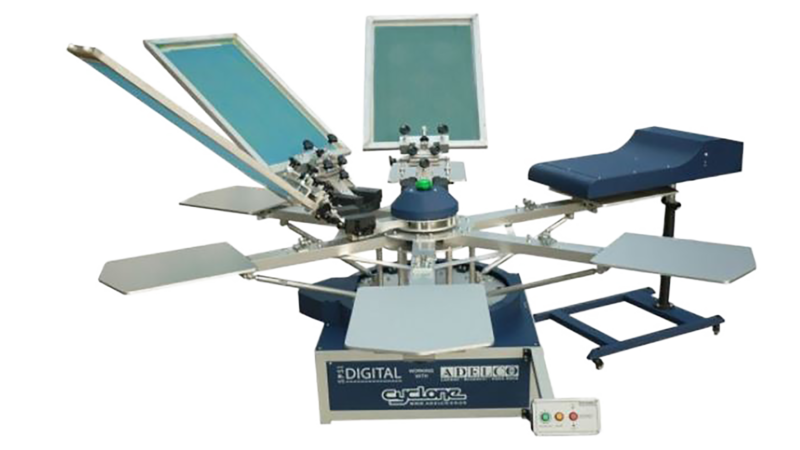 Adelco Cyclone
Semi-Automatic Printing Press
Advantages and features
Cast and machined aluminium print heads
Lightweight honeycomb aluminium pallets
Siemens PLC control system
The Adelco Cyclone semi-automatic screen printing press can be used as a standalone or combined digital and screen printing solution. Printing at speeds of up to 200 pieces per hour on light or dark garments.
Main Features
Index in either direction with a powerful Servo driven index.
Siemens PLC control system.
Lightweight honeycomb aluminum pallets.
Cast and machined aluminum print heads.
Automatic flash signal connection communicates with automatic quartz flash cure units.
Automatic interface with the Kornit Paradigm digital printer.
Lowest digital print costs on dark fabrics – create digital prints on dark garments without the print costs associated with using digitally printed white bases.
Combine digital prints with a choice of screen print bases including screen printable pre-treatment on white fabrics, white under base printing with acrylic or discharge white on coloured fabrics, spot colours or specialty inks such as glitter, gel, high build etc.
Buy as a 3 colour, 8 stations for screen and digital combination prints with the Kornit Paradigm or 6 colour, 8 station manual printer with automatic index.
Specs
| | |
| --- | --- |
| Air Supply | 100 PSI (7Bar) 3 CFM |
| Print SIze | 45 cm x 50 cm |
| Dimensions | 301 cm Diameter |
Make an enquiry now
Register your interest in the Adelco Cyclone now. We guarantee you won't be disappointed.