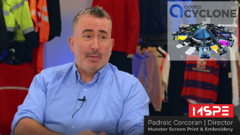 Munster Screen Print & Embroidery
Munster Screen Print & Embroidery - Overview
Munster Screen Print & Embroidery based in County Cork, Ireland, was founded in 2021 by Beni Moussa and Padraic Corcoran.
After heavy investment in the latest print, embroidery and sublimation equipment. They have the capacity to customise over 20k pieces per week.
Introducing the Adelco Cyclone
Munster Screen Print bought the Adelco Cyclone printing press in 2021. They were running a manual press and needed to increase production.
They currently print T-shirts, hoodies, and safetywear, with runs around 300 items.
We sat down and had a chat with Padraic and asked him about his new machine.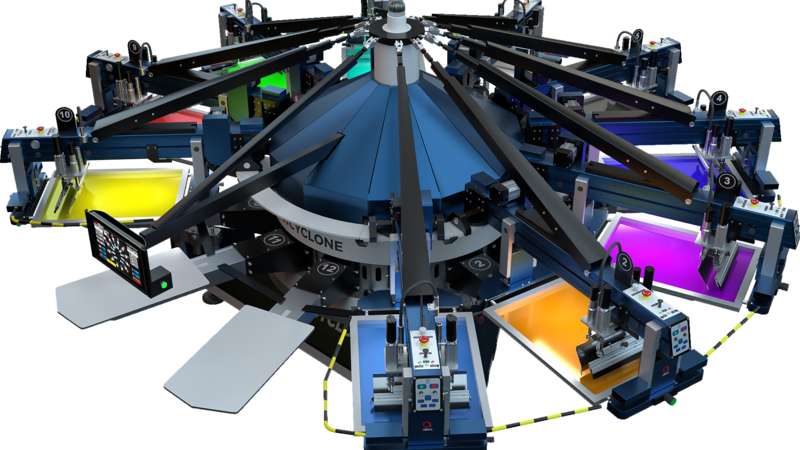 Why did you buy the Cyclone?
Padraic commented "The main trends in the industry that drove us to buy the carousel were speed and quality, this has become more and more important. Nowadays people are saying I want it and I want it now. If you can't do it now, then your not going to get the work."
Padraic elaborated "The spec of the machine was incredible, we have features that you wouldn't see anywhere else, not just electric heads or electric servo heads but led lights, it might seem like a small thing but every little detail like that is amazing.
The most appealing feature of the cyclone are the lugs set up on the screen. You can literally take a screen off and put on another, and it will line up again every time. Speed is set up and consistent, so we could take a screen off, clean it put it on the shelf, leave it for six months, put it back on again and it'll be perfect every time. You don't have to think about it, don't have to set it up again, it just works perfectly every single time.
This business is all about speed and downtime, you get the fastest machine in the world but if it's not running it doesn't matter how fast it goes, so for us, it's just to get up and running as fast as we can and the Cyclone is perfect for that."
With the Cyclone, number one print is the same as number five thousand, this is the same print every time. You set it up properly and the registration isn't going to move, you can set it up and not worry about it, all you got to worry about is putting shirts on the machine and that's it, the machine does everything else.

Padraic Corcoran, Director, Munster Screen Print & Embroidery, Ireland
Why Adelco?
We asked Padraic why did you choose to go with Adelco, he replied "I spoke to Phil in Adelco and went through everything with him, the next day Luke Smith phoned up and explained all about the company and what they did, he had a huge passion for the machine. It wasn't just buying and selling, taking their profit and moving on, they were obsessed about this machine from the smallest part to the biggest...."
We felt those guys matched our values and had the same mentality.

We are a small closed business I'm one of the owners and hands-on. The Smiths in Adelco are the same, everybody's involved and hands-on, nothing has been fobbed off to someone else, everybody wants to get the job done.

Padraic Corcoran, Director, Munster Screen Print & Embroidery, Ireland
Machines featured in this case study