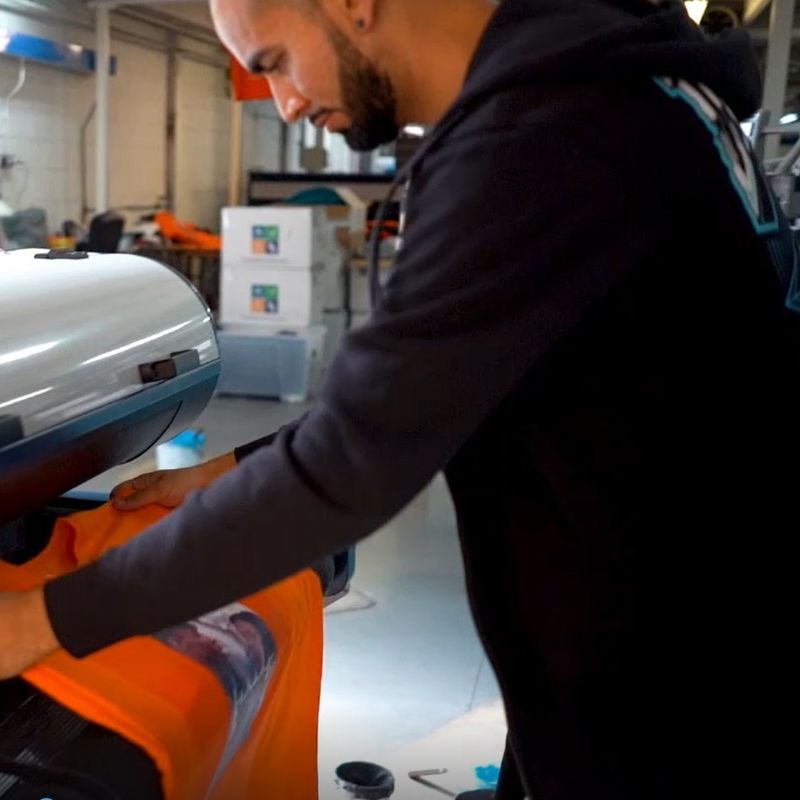 Case study
Dy-mensions
A case study on London based Screen Printer, Dy-mensions
History
Adolf Fernandes, owner and Managing Director of Dy-mensions started off printing t-shirts 30 years ago. He then moved into T-shirt sales, successfully managing the company for 18 years. He took the big step of starting his own garment decoration company Dy-mensions in 2001, established in Crystal Palace, south London. Their growth progressed steadily until they finally outgrew the facility and five years ago moved a few miles to Thornton Heath, south London.
Their customer base is predominantly B2B retail customers, making up 60% of their trade. The remaining 40% of the business is their own clothing line, with on-line mail orders being printed and processed every day. Their clientele is diverse and loyal, from large retail giants to smaller fashion brands. This is down to the commitment and value Dy-mensions place on their customers, providing the highest quality products. This is exemplified by the fact that word of mouth is the prevalent driving force behind sales.
One of the secrets must be the way the company operates, Dy-mensions is a tightly run ship, everything from the staff in their stylish Dy-mension branded t-shirts to their machinery is kept spotless and well organised.
I would describe Adelco as honest, reliable and trustworthy, I have known Mark and Adelco for many years, and they always keep to their promise and I am happy with them. Mark is so good I could call him any time, 1 or 2am in the morning and he will be there.

Adolf Fernandes, Owner - MD, Dy-Mensions Screen Print, UK
Dy-mension's investments have not stopped at Digital printing, they have also invested in a Thermotron FX23 folding machine, Adolf comments "hand packing is the past and automatic is the future, definitely the best way. It makes my life easier which is important." The FX23 has streamlined production so much so that they are introducing it to another company in Kentish town
We would recommend the Thermotron FX23, you just need an airline and power. It has taken the place of 4 manual folders, people were sceptical at first, but now everyone loves it.

Adolf Fernandes, Owner - MD, Dy-Mensions Screen Print, UK
The Future
Dy-mension will have screen printing for the foreseeable future, it is part of their DNA. They currently have a 12 colour printing press and are looking to extend this by adding a 10 colour press. The new machines both screen and digital will come in handy as they have one of the largest media conglomerates in the world interested in signing contracts in the next month.
As a screen printer, moving into digital can be daunting, but their willingness to learn and embrace the new technology has paid off and ensures their growth into the future.
Machines featured in this case study