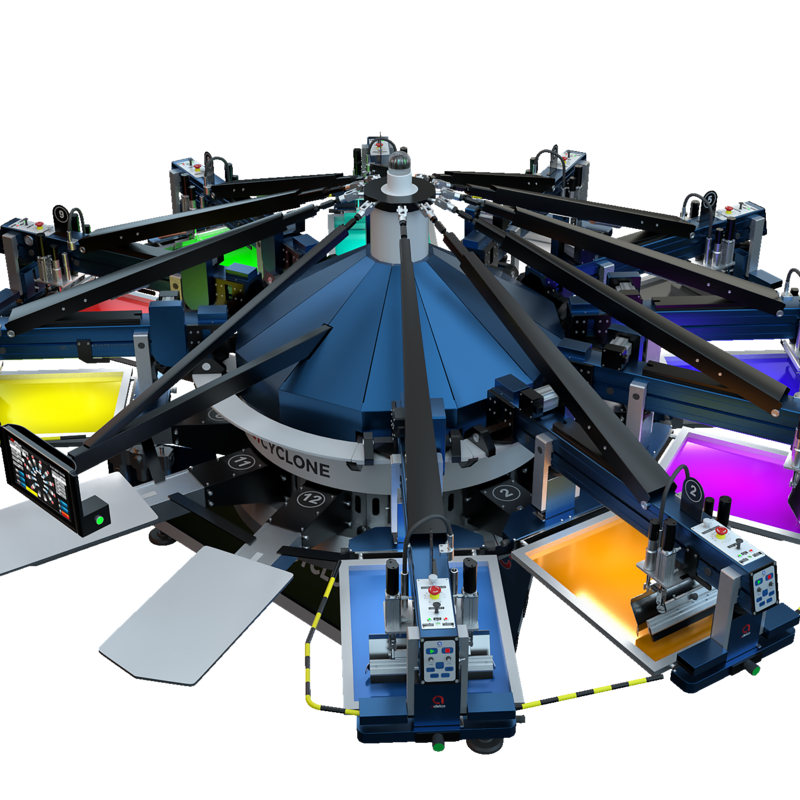 Case study
T-Shirt & Sons
One of the largest screen & DTG printers based in the UK invest in Adelco Cyclone Carousel
T-Shirt & Son - Background
T-Shirt & Sons are one of the largest garment screen printing and digital printers based in the UK. Established in the 1980s and located in Westbury, Wiltshire. They have gone from strength to strength, catering for high volume orders as well as bespoke printing. In 2016 they opened a second facility in the Netherlands, which proved successful and are now Europe's largest DTG printer and fulfiller.

One of the reasons for this success is the constant improvement of their processes, and the investment put into new technology.
Last year they purchased an Adelco Automatic Cyclone carousel screen printing press for their facility in the UK. One of the driving forces behind this investment was having a major client increasing their throughput of Screen Print work, and the need to install another system to meet that demand.

They chose the Adelco Cyclone as it had all the features that they expected from their current screen print systems and more. Jon Lunt, Managing Director at T-Shirt and Sons explained:
We have worked closely with Adelco for many years and know we can rely on their support, so the decision was made to install a new system from Adelco.
Introducing the Adelco Cyclone.
Initially, they were concerned about fitting the ten colour printing press into a limited space, and moving existing systems to allow access to position the machine correctly. These concerns were short lived, and they were impressed that Adelco visited and checked that the space was sufficient for the new machine and allowed workflow to operate successfully alongside their existing production lines.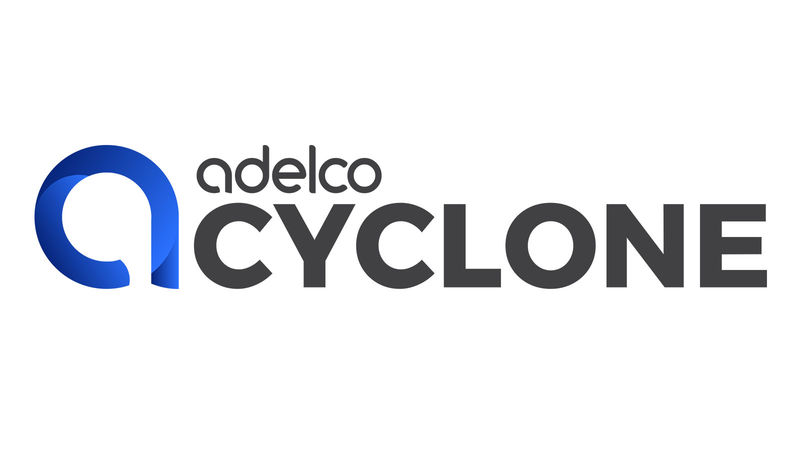 Outcome of having the Cyclone in production.
Once the Cyclone was installed and in production, T-Shirt and Sons were pleased with the result. The production speed, print quality, and ease of use were exactly as expected. The throughput capacity increased as expected and therefore resolved all their requirements.
We asked Jon a few questions regarding his latest purchase:
What features do you like the most about the Cyclone?
Visibility of the screens is amazing with built-in LED print headlights, and we particularly like the high lift feature on the print heads. This speeds up setting and removing screens and makes intermediate cleaning during a print run so much easier.
Why did you choose to purchase from Adelco?
We have bought equipment from Adelco for over 25 years, and they are a pleasure to do business with. They are honest about what you can expect from their machinery and if there is a problem, are quick to help resolve the issue. My experience with Adelco as a company has been fantastic, they look after their clients. Even when one of our facilities was not in the UK, their support was great. They are friendly and trustworthy.
Would you recommend Adelco and their products?
I would recommend Adelco and their products, we have eleven Adelco driers, one Cyclone carousel and bought most of our fleet of nineteen Kornit DTG printers from them. If I were looking to buy more machinery, I would always talk with Adelco for their knowledge of the market and honesty.
We wish T-Shirt and Sons continued success across Europe, and look forward to working with them for many years to come.
Machines featured in this case study