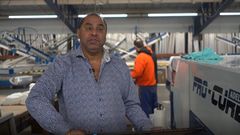 Pally UK
Pally UK
THE BEGINNING:
Within the niche industry that is garment printing, Pally Hayre is one of the most influential and well-known characters. Pally has been in the trade for over 33 years and is a force to be reckoned with, his label as king of Leicester, is well known and justified.
Upon entering Pally's print floor, you are taken by the size and the amount of modern, UpToDate machinery that is being used. He has eight MHM printing presses that range from eighteen to eight colours. These large machines are supported by 4 Adelco Pro-cure dryers. Pally is an astute and savvy businessman, with his desk in the middle of this enormous print shop, he has his thumb on the pulse of his empire, which consists of a 47,000 sq ft printing shop, a sublimation factory, cutting and packaging factory to boot.
Let's start at the beginning: Pally who has been born and bred in Leicester and has been in the industry since 1986, where he and three business partners started a garment printing business called "Rainbow Screen Printers". This business-focused predominantly on children's clothing. With only an estate car and long hours (6 am – 1 am, 6 and half days a week). Rainbow Screen printers took off, and proved successful, enabling Pally to buy his first Porsche within 6 months. Due to different business approaches regarding investment, Pally had a break from this company for 6 months before starting up on his own, aptly known as Pally UK in 1996.
With the philosophy of don't buy things you can't afford and buying in bulk, business soon took off and Pally International, Pally Screen-printing & Pally investments were added to the portfolio.
His son and wife are both involved with the business, making this a family concern. His son – Garron, who appears to have inherited Pally's entrepreneurial streak started his own customized clothing label "Loud" about three years ago, this has gone well and last year invested in embroidery machines.
Today:
The printshop with 8 Large automatic carousels that are churning out 100,000 items a week was in need of a solution to cure the prints with efficiency and to take into account the economic and environmental factors. There were a variety of choices out there, but with Pally's history with Adelco, he had previously bought 10- 12 Adelco dryers over the years,
Adelco is like a family to me, Adelco Dryers have strong money back – Good return, the problem is that they are too good.

Pally Hayre, Managing Director, Pally UK
Adelco was the obvious place to go. Having just launched their flagship Pro-cure range, with modular design and the ability to clean the filters without stopping production. This solution had some major advantages over the competition.
Once the dryers had been put into production, Pally was pleased with his decision and impressed with the dryers and the service he received.
Adelco keeps up with technology and the temperature keeps constant.

Service with Adelco is brilliant, Steve looks after us and always on hand to help out either on the phone or getting stuck in the machines.

Pally Hayre, Managing Director, Pally UK
What's to come?
You won't find much online about Pally, which is rare in this day and age, he has no need to have a website or go on social media. His machines run flat out, in a nutshell: he makes the business work for him. Open between the hours of 8 am and 5 pm Monday – Friday. During these hours he conservatively prints 100,000 items a week.
All customers pay within 30 days, Pally puts this down to good service and quick turnaround. and all suppliers are paid in 30 days. He was quick to point out that in his entire career he has not had any judgements against him for copyright etc. which in this industry is impressive.
This gives good work/home life balance and has enabled him to enjoy travelling and time with his family, he has just got back from a family holiday to Mexico. As well as his love of sports cars.
With a company that is not only an asset but cash-rich, He has no plans to retire any time soon.
Machines featured in this case study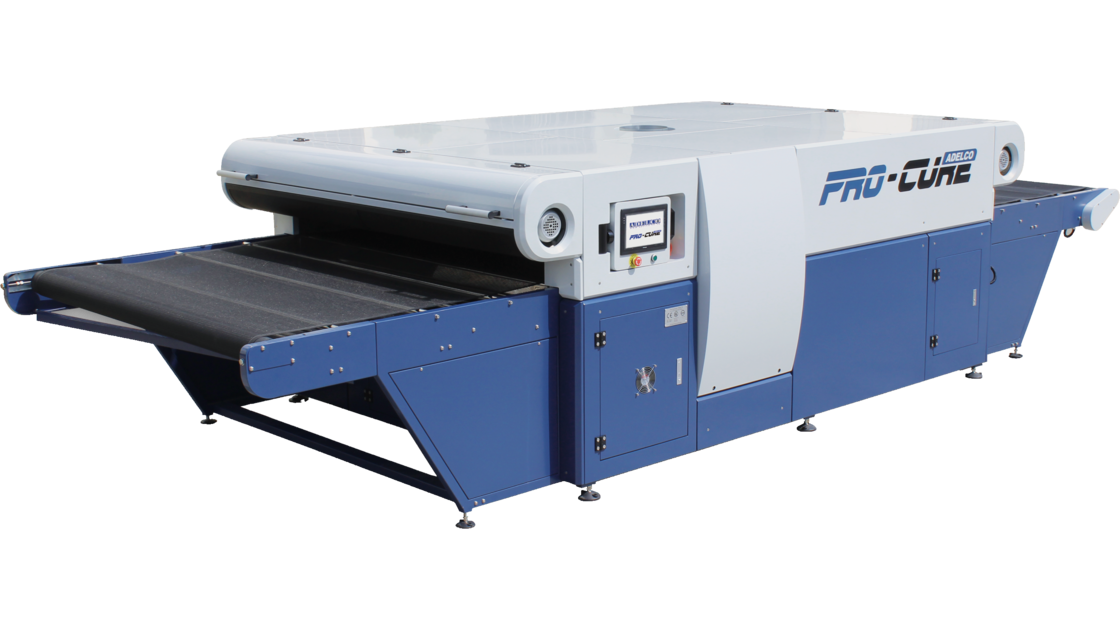 Adelco Pro-Cure
An advanced textile conveyor dryer that cures both screen & digital printed garments with five belt widths to choose from to meet your production output
Find out more about the Adelco Pro-Cure