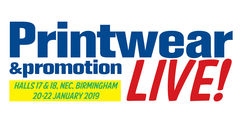 Printwear & Promotions Live 2019
Printwear & Promotion LIVE! 19
Thank you to all that visited us at the NEC, it was great to meet you. If you missed the show please find the details of the machines that we exhibited below. Our showroom is always open if you would like a demonstration, please email: sales@adelco.co.uk or call us on 01420 488288 we would love to hear from you.
Kornit Storm HD6 - With 30% ink saving and HD technology, this DTG machine offers exceptional printing profitability.
Adelco Pro-Cure - Technically the most advanced dryer in the world.
Adelco Digi-Cure - Economical with High-Pressure airflow for best curing penetration.
Thermotron Bagging machine. - Thermotron folding equipment range will compliment any high volume garment business.