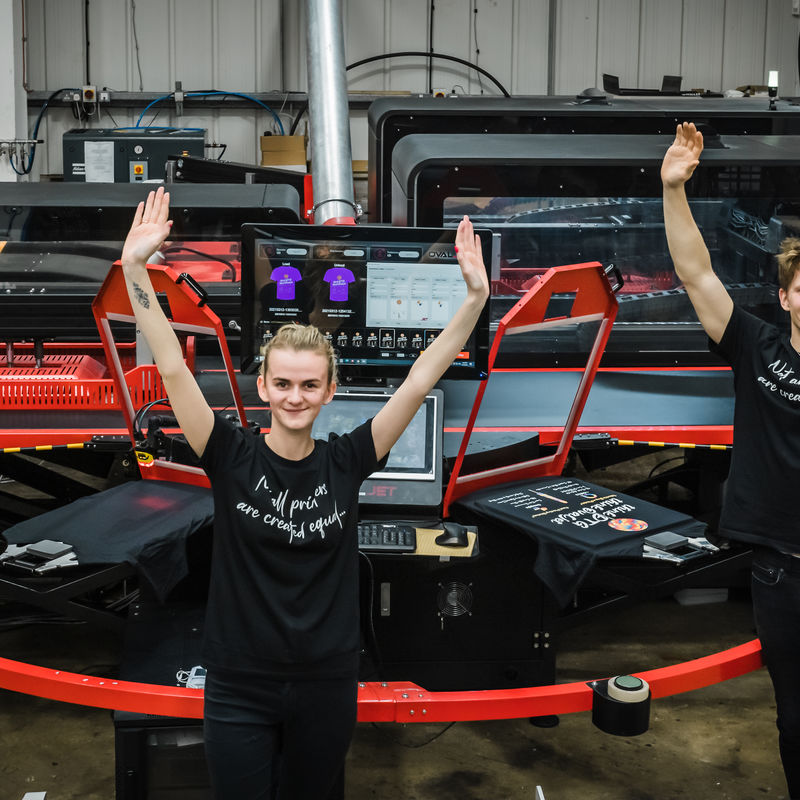 Case study
Snuggle Printing
Peterborough based printer invests in high production DTG.
The first OvalJet installation in the UK.
Snuggle Printing, a print on demand and trade printer, are the first company in the UK to invest in the OvalJet a high production DTG carousel.
Melanie Attlesey at Printwear and Promotion talks to Snuggle Director Shabbir Maimoon about his thoughts on the system.
When was the OvalJet installed and how did you find the installation process?
"The OvalJet was installed in the middle of November last year and considering we were in the middle of our peak season and also trying to tackle the restrictions imposed due to the COVID-19 pandemic it's a wonder we managed to get it installed!
The team from Adelco were incredible; some days working 16/17 hours in order to liaise with everyone involved both in China and USA. It was a worldwide effort! Adelco handled the whole install amazingly; the team were conscious how critical and important it was to complete the install as soon as possible, as well as being mindful of the ensuing chaos all around them!"
What were the driving factors behind your decision to purchase the OvalJet?
"Speed was a really big factor which influenced our decision to purchase the OvalJet. We are currently achieving easily between 180 to 200 full pallet dark garment prints per hour which is incredible. There is no smell to the pre-treatment and it prints the pre-treatment exactly where you're printing to avoid any unsightly staining. Many people still don't believe that digital printing can be as good as conventional screen printing, however with the OvalJet that is no longer the case."
What advantages has the OvalJet brought to your business?
"We're currently seeing a saving of around 22% in ink due to the lower ink costs which is massive for us. The increased hourly output enables us to get through more prints efficiently and quicker turnaround times for our customers. Combining both the ink savings and increased throughput this allows us to be more competitive on multi-colour smaller bulk runs of between 200 to 1,000 garments.
We're able to get through a lot more per day which has allowed us to reduce overheads and costs in labour so it's already been a huge benefit to us in a relatively short period of time."
How easy is the OvalJet to operate? Did it require much training?
"It's not the easiest direct to garment printer out there and there is a learning curve as would be expected with any new equipment, but once you get to grips with a slightly different way of working it's not difficult to use. There was a fair amount of training which Adelco did with us, over a week to learn the new processes, way of working, set-ups and calibrations, but like anything you never stop learning."
What does the OvalJet offer or do differently that other similar machines do not?
"When comparing to other high output industrial DTG printers the OvalJet prints onto a dry surface by using a series of built-in heat presses and flash cures which in turn make the inks more vibrant and brighter. The OvalJet's hourly output is currently the fastest in the market and the dot-for-dot printing of the pre-treatment reduces any staining and is odourless."
Are there any downsides to the OvalJet or anything that you would change?
"You do ideally need an in-house tech team in order to synchronise your files with the RIP and then with the OvalJet. The RIP itself could be more flexible and easier to use. By developing our own in-house software we've managed to make it easier for our operators and workflow. In an ideal world we'd love to see the OvalJet being smaller than it currently is, even though we know that's impossible."
What is the response from customers when they receive prints produced on the OvalJet?
"We've had an incredible reaction from our customers who have been really pleased with the output from the OvalJet, they've commented that they've never seen better DTG prints! The DTG prints from the OvalJet could even be mistaken for a screen printed garment."
Would you recommend the OvalJet to other decorators and why?
"If you've got the in-house tech expertise and the volume of DTG work it's a great solution! It prints exceptionally well and super-fast speeds on full pallet dark garments. Of course, if you don't have the above, remember you can always come to us and get the best of both worlds with exceptional service, no tech hassles and amazing DTG prints."
Do you have any advice for anyone looking to purchase an OvalJet?
"I'd say you need to do your research. It is very different to other DTG systems out there and you need to make sure you have the volume of work and that the OvalJet will fit into your workflow. It's a great piece of kit, but it does need to be right for you.
Check out this video, showing the installation of the OvalJet DTG into Snuggle Printing.
Machines featured in this case study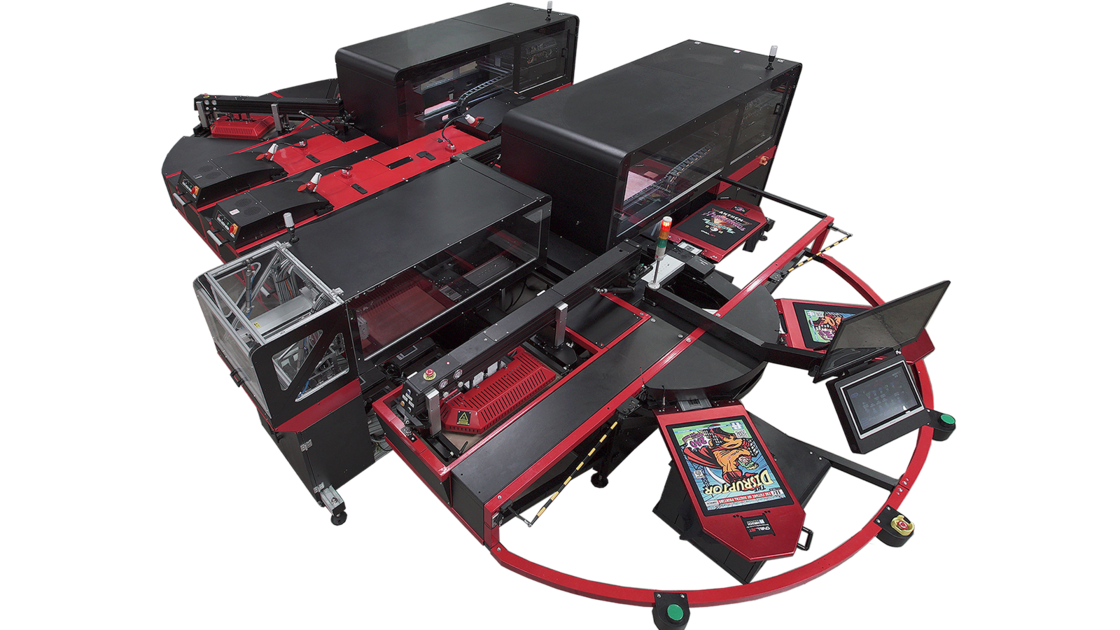 OvalJet
The OvalJet is a revolutionary closed-loop high-volume DTG printer designed on the production floor, that delivers unmatched colour vibrancy & fastest prints.
Find out more about the OvalJet