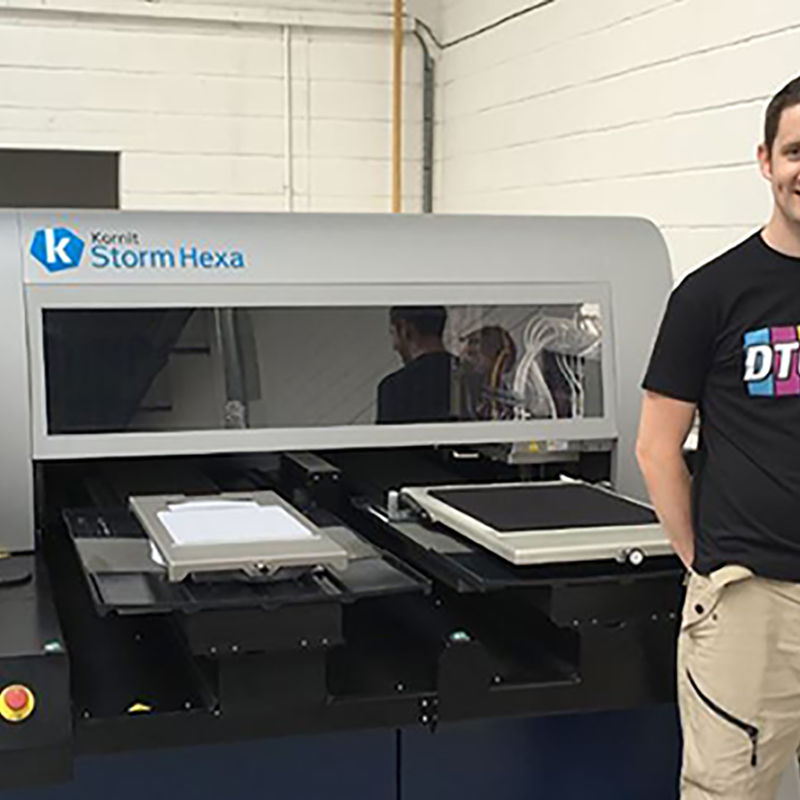 Case study
DTGUK
Milton Keynes based DTGUK continue to grow, purchasing their third Kornit direct-to-garment system
Growth for DTGUK
In a vital move to boost production capabilities, Milton Keynes based DTGUK.com has become the first UK company to install the Kornit Digital Storm Hexa direct-to-garment digital printing system which incorporates the NeoPigment process that makes it ideal for use on nearly all fabrics. An existing user of two of Kornit's Breeze machines, this new addition means that throughput rates can now be augmented with the added benefit of working with a wider variety of garments and apparel. All solutions have been supplied by Adelco Screen Process Ltd, long-established in the screen-printing, drying and digital textile printing market segment.
Co-directors of DTGUK.com, Nick Davis and Phil Walker started their original textile printing business seven years ago to concentrate on the direct-to-garment market. After investigating the capabilities of all machines available, they chose to invest in two Kornit Breeze systems. Having selected Kornit Digital's technology and favoured the NeoPigment process, the company worked with UK supplier Adelco who looked after all aspects of the purchase, training, supplies and service.
The growth of DTGUK.com has resulted in the need for an additional high productivity direct-to-garment printer and the addition of the Kornit Digital Storm Hexa now means that Davis and Walker can concentrate on fulfilment printing. This further investment into a direct-to-garment system is ideal for heavy-duty production cycles with a variety of apparel and garment products, including items such hoodies and aprons as well as T-shirts. Again, after researching the market thoroughly, Davis and Walker found it an easy decision to remain with Kornit and their company is the first in the UK to install this new system which was launched at FESPA Digital 2016.
The Kornit Storm Hexa gives us the heavy-duty production levels we need with our new business model and adds the benefit of a wide gamut with its CMYK plus red and green colour palette. Our two Kornit Breeze printers have been ideal for our existing direct-to-customer market but, with the move to higher mixed volumes with our new trade service, we needed an industrial-strength platform for longer, versatile runs of personalised and versioned products.

Nick Davis, Director, DTGUK, UK
Both Davis and Walker have always enjoyed working with Adelco Screen Process whose knowledge of the textile industry migrated into the digital production segment more than twelve years ago. "Kornit's wet-on-wet and in-line pre-treatment processes are key for production – there are few restrictions to which textiles Kornit can print on," comments Adelco's Luke Smith. "At Adelco we have the advantage of generations of experience in the textile printing market and this enables us to help businesses make the transition and expand their digital production. The fact that Nick and Phil returned to Adelco for their latest investment demonstrates how we work closely with our customers to make sure that they invest in the best solutions for their needs."
It's also vital that we don't want to be restricted by only printing to cottons and mixes. Kornit's NeoPigment process frees us up to work with virtually all textiles without requiring specialist pre- and post-treatment routines.

Phil Walker, Director, DTGUK, UK
The Kornit Digital Storm Hexa has 16 print-heads and two additional colours to provide full support for CMYK, red, green and white. It is ideal for producers of colour-conscious applications that need to match specific brand and corporate requirements, and can output up to 170 garments per hour in high productivity mode. Its recirculation system reduces ink consumption, and optimises reliability while double the numbers of nozzles increases throughput by up to 40% when compared with its predecessors.
Timed for installation to fit in with DTGUK.com's move to new premises, the Storm Hexa is now up and running, producing custom-printed products with no minimum order number. Examples include workwear, jumpers, aprons and speciality apparel as well as more typical T-shirts, hoodies and sweat-shirts – none of which could be accomplished quickly and easily without the assistance of Kornit Digital's print technology and pigmented ink system.