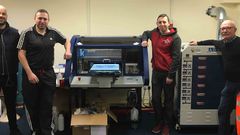 New install at Dayfields Print
New install at Dayfields Print
A smooth and successful Kornit DTG Breeze & Adelco drawer dryer install for Dayfields Print – www.hoodies.ie.
The purchase was handled by Lottie and Luke in a friendly efficient manner and the Breeze and Dryer was installed by Rob who explained the workings and software of both machines in easy to understand language. We have just completed our first job of 50 full colour tee shirts 3 hours after Rob left (slow but we will get quicker). We're very pleased with the service from Adelco.

- Jim McQuaid

Dayfields Print
We all wish Dayfield Print many happy and succesfull digital printing, its a pleasure to work with you guys.