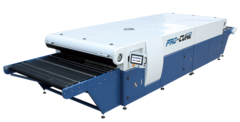 Adelco Pro-Cure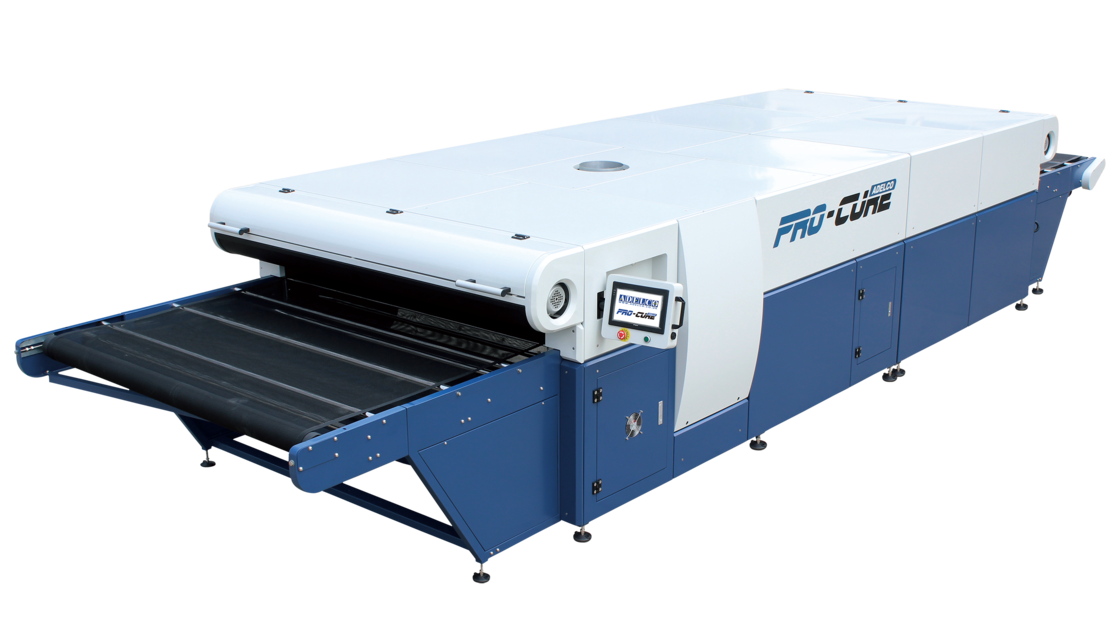 Adelco Pro-Cure
An advanced textile conveyor dryer that cures both screen & digital printed garments with five belt widths to choose from to meet your production output
Advantages and features
Five conveyor belt widths available - Modular in design
Gas or Electric textile conveyor dryer
In-feed & Out-feed Extraction
Strongest, toughest and longest lasting conveyor belts on the market
Auto tension, self -tracking rollers
Digital Touchscreen Interface
Reduced energy consumption, low running costs
Easy to clean, service & maintain - Fine filteration system
Fast curing times for both digital and screen printed garments
The most technically advanced and most efficient garment conveyor dryer on the market
About the Adelco Pro-Cure
The new Adelco Pro-Cure conveyor dryer range is available in five belt widths and five oven lengths, so you can customise your dryer to suit your individual curing requirements, for all digital and conventional textile ink systems. The Pro-Cure is modular in design, making it the perfect option to add additional ovens to the dryer as your business grows.
Designed and specified for advanced textile curing, the Pro-Cure tunnel dryer has an efficient airflow and exhaust system, incorporating oven feed and exit extraction hoods to provide a cleaner working environment. As well as incorporating many of the popular features found in the Adelco Dual Dryer and our other drying machines.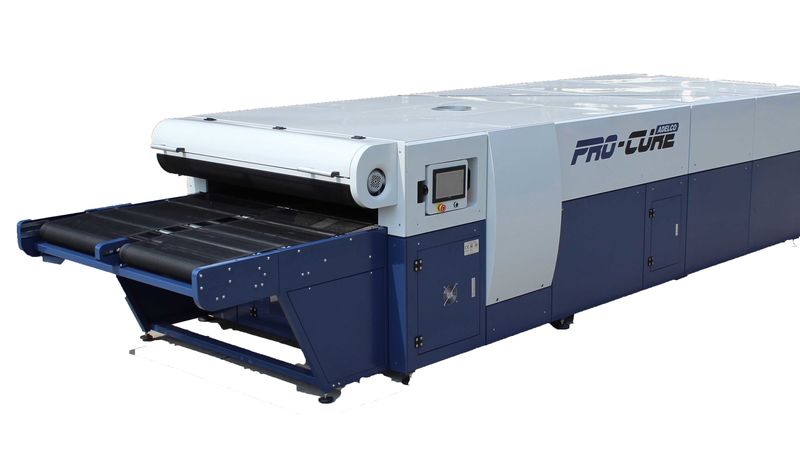 A Feature Rich Conveyor Dryer
The Adelco Pro-Cure curing machine is a feature rich conveyor dryer that uses dual lint filters to prevent the build-up of lint in the dryer and helps to reduce cleaning and maintenance dramatically as filters can be easily cleaned in seconds while the dryer is still running. With many features included as standard, there are also some optional extras available to enhance your Pro-Cure dryer further. Give your tunnel a temperature boost at oven entry with the integrated, digitally controlled Quartz pre-heating system. We also offer a VOC exhaust filtration system as an optional extra.
The Adelco Pro-Cure machine is available as a gas or electric conveyor dryer and uses a sophisticated touch-screen control panel so you can easily set, manage and control the automatic belt speed that is precise and repeatable every time.
The Pro-Cure conveyor dryer offers a split-belt model in all oven sizes with two burners, two speeds and two directions, enabling the dryer to cure two independent production lines at the same time. The Adelco Pro-Cure dryer comes with the strongest, toughest and longest lasting conveyor belts on the market.
To find out more about the Adelco Pro-Cure conveyor dryer, please download our brochure or contact us.
Adelco Pro-Cure Key Features
Various belt widths available: Split belt, 75cm, 1m, 1.2m 1.5m & 1.8m
Five oven lengths available: 2m, 3m, 4m, 5m & 6m
Auto-tension, self-tracking rollers
Available as a Gas or Electric conveyor dryer
Easy to service & maintain with quick release panels & filters
Digital automatic conveyor belt speed control
Sophisticated touch-screen digital control panel interface
Vaccum pulldown, providing exceptional stability of delicate fabrics, preventing lifting and flipping over.
Unique Hood extraction, helps prevent fumes escaping, cleaner and fresher environment.
Split belt options. Two burners, two speeds, two directions, two production lines.
Triple insulation with air curtain for the coolest exterior skin.
Integral exhaust adjustment
High Air flow for increased penetration, leading to faster curing times and giving unrivalled heat distribution
Reduced energy consumption for low running costs
Highly efficient, direct Ultra-Violet controlled burner system
Optional VOC exhaust filtration system
Recycles clean filtered air and extracts contaminated air
Optional Quartz pre-heat for temperature boost at oven entry
Removable Lint filters from either side of the dryer, no replacement filters required.
Fast and easy Filtration system that can be cleaned whilst the dryer is running, no replacement filters required.
Specs
| | |
| --- | --- |
| Vacuum pull-down | Vacuum pull down that provides exceptional stability of delicate fabrics preventing lifting/flipping over |
| Air Flow | Even higher air flow through garment for increased penetration leading to faster curing times and wash fastness |
| Touchscreen | 10.2" touchscreen interface design easier to navigate and reacts faster |
| Electrical Supply | 3 Phase, 50/60HZ / 200-220V & 380-415V |
| Natural Gas Pressure | 10" W.G. / 25m bar |
| BTU Requiured | 125,000 - 225,000 (depending on the size of dryer) |
| TIme from ambient temp to 160°C (320°F) | Approximately 8 - 15 mins (depending on size of dryer) |
Make an enquiry now
Register your interest in the Adelco Pro-Cure now. We guarantee you won't be disappointed.