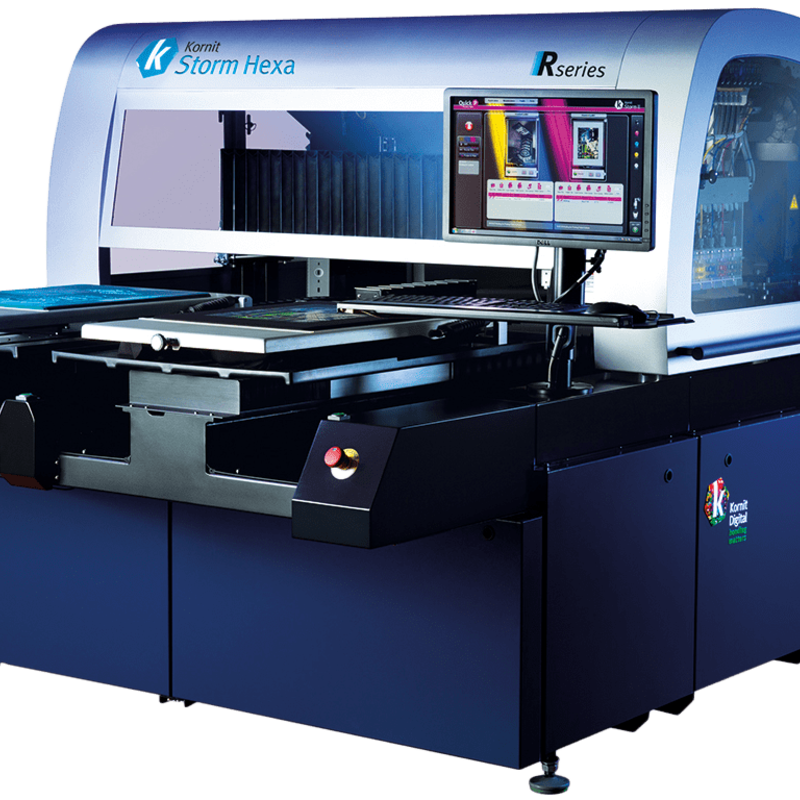 News
Kornit launch New Storm Hexa
Introducing the Kornit Storm Hexa & Storm 1000
Kornit's most popular product family for mid-size businesses receives major upgrade, features recirculating print heads, flexible ink configurations and significantly reduced ink consumption
Kornit Digital, (NASDAQ: KRNT), launched two new direct-to-garment printing systems at Fespa Amsterdam 2016.
The new systems are members of Kornit's best-selling platform of Storm systems, which – in more than ten years – have earned a reputation as solid, robust and reliable industrial systems with high effective throughput.
The new Kornit Storm Hexa and Kornit Storm 1000 have been equipped with state-of-the-art inkjet technology to turn them into the most advanced industrial direct-to-garment printing systems for medium-size businesses. Their features include a recirculating ink system to reduce ink consumption and to further optimize reliability, as well as a doubled number of nozzles to increase productivity of up to 40% over previous Storm configurations.
The Storm 1000 is the standard configuration of the new product family and features 12 print heads in a CMYK and White configuration. It produces up to 170 garments per hour in high productivity mode, including inline pretreatment. It covers a print area of up to 50 x 70 cm / 20 x 28 in.
The new Storm Hexa is equipped with 16 print heads and two additional colors for full CMYK, Red, Green and White support. It is the system of choice for color conscious applications such as the production of promotional and brand related garments. It also can produce up to 170 garments per hour in high productivity mode.
The Storm series of direct-to-garment systems have been Kornit's signature product for more than a decade. The Storm II is the best-selling industrial direct-to-garment printing system in the market. Launching a new and improved generation of it is an important milestone for us and a great opportunity to further improve the efficiency and performance of our industrial systems. The new Storm configurations show drastically improved throughput and further reductions in ink consumption, as well as excellent print quality. They are perfect production tools for a broad range of applications.

Guy Zimmerman, Vice President of Marketing Business Development, Kornit Digital
Both systems are based on Kornit's unique NeoPigmentTM printing process. They are equipped with advanced productivity features such as a built-in pretreatment system, a quick replace pallet mechanism, a 4 liter bulk ink system, an integrated humidity system and a backup power system for a quick and easy system start. All Kornit printing systems are compatible with a variety of fabrics (cotton, polyester, blends, denim, silk wool and more) and are geared towards industrial mass-customization applications.