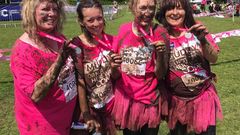 Adelco get Muddy
The Adelco girls took to the mud to raise money for Cancer Research. We raised over £900 for this important cause. A big thank you to everyone who supported us.
We were covered from head to toe in glorious mud, luckily the sun was shining and the 5k obstacle course kept us warm.
All donations are very welcome: https://fundraise.cancerresearchuk.org/team/go-go-adelco-girls
Check out this great video below.
https://www.facebook.com/jon.mussell1/videos/10210201182201841/