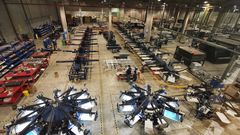 Adelco announce surprising results
ADELCO ANNOUNCE SURPRISING RESULTS FOR 2020
2020 will be considered a difficult year for most businesses as a result of the pandemic, creating issues for many companies in the Textile and Apparel sectors whilst others have seen positive market trends, particularly in the ecommerce and digital print sectors.
Equipment manufacturers are also seeing varied results as a cause of the pandemic and are having to change and respond to these changing market trends.
Many companies made significant expansion plans in 2019 as a result of growth and Adelco were no exception having moved to a new manufacturing facility in December 2019, trebling their manufacturing space and making significant investments in equipment such as CNC machining systems, additional staff and R&D projects. Such an expansion seemed daunting in the first quarter of 2020 when the pandemic effect was unknown and lockdowns began around the world.
However, Adelco are one of many equipment manufacturers that have seen positive results from careful planning and development, and can announced that they manufactured 136 high end textile drying systems and 43 automated textile printing systems in 2020.
Mark Smith, Managing Director at Adelco commented "We decided to announce these figures to the market to show there can be many reasons to be positive in the textile industry during such difficult times".