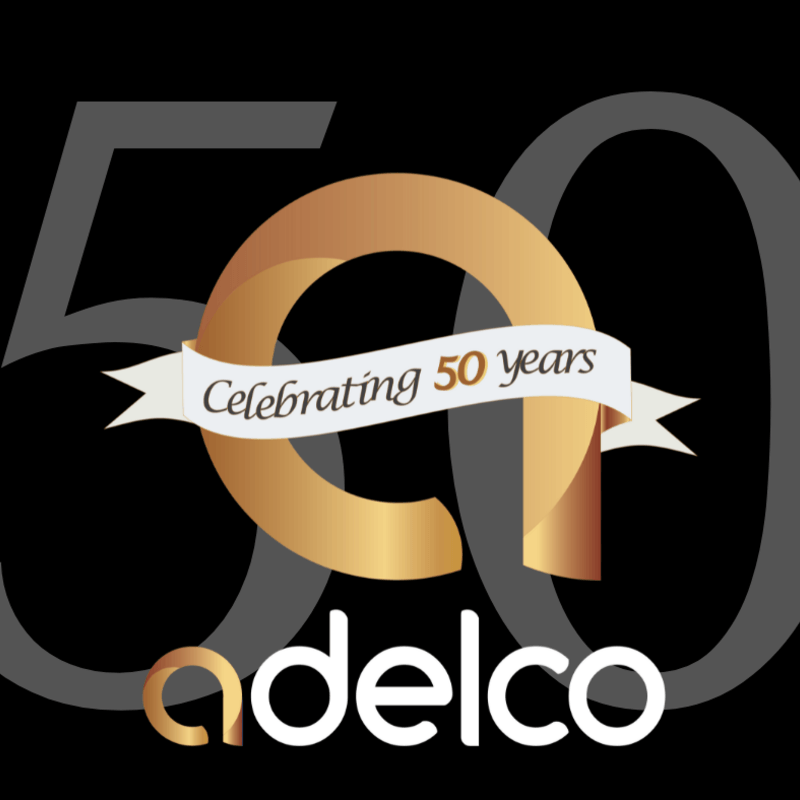 News
Adelco at 50!
We are celebrating 50 years of trading this year!
Adelco announce 50 Years of trading!
We are excited to announce our 50th anniversary. We registered as a limited company fifty years ago this summer.
This is not just a corporate anniversary; it is an anniversary of a family that grew strong defying the odds.
Over the last half-century, we have survived recessions, wars, pandemics, and technology transformations that could have been fatal to some companies, but we have managed to thrive and grow. The next fifty will likely be even more challenging, this milestone can be used to put a stake in the ground for what Adelco is prepared for, and what comes next.
A brief history
Starting from humble beginnings Adelco have grown from a small UK based manufacturer to a global brand with partners in more than 36 countries, with a large manufacturing facility based in Asia, and a work force of over 150 staff.
Alan Smith, along with two other partners, Des and Laurie founded the company in 1972, based in Farnham, Surrey. Using their initials, they named the company Adelco. The company has developed over the years, initially manufacturing screens, art and design for electronic components, circuit boards and cosmetic toiletry containers.
By the late 70's we had moved to a larger premises, and were producing screens for electronic, cosmetic and textile applications. In 1979 Adelco started manufacturing screen printing and drying systems and importing textile machines into the UK and then Europe. This was the turning point for us, to become established in the Textile industry.
Adelco moved to Bordon, Hampshire in 1990, located in three industrial units producing textile printing machinery. With Alan's two sons Leigh and Mark onboard with experience in engineering and sales, the company grow steadily.
In 2006 we moved our manufacturing plant to China, and with our inhouse original designs and inspired engineering in both drying and printing solutions, we expanded our production by threefold.
In 2020 Adelco rebranded the company, reflecting the company's evolution into a global manufacturing business.
Over the last 50 years Adelco have grown to be a well known and respected brand. Our decision to launch our new logo and brand identity better reflects our market leading position, and our technically advanced offerings to the market

Leigh Smith, CEO, Adelco
The Future
With three new dryer innovations launching at FESPA, Berlin this year! We continue to push the boundaries of technology and engineering, and deliver relevant and ground-breaking screen printing and drying technology with the customer at the heart of all our machines from design to installation.
Come celebrate with us at:
Printwear live - Birmingham April 24 - 27th 22
FESPA - Berlin May 31st - 3rd June 22