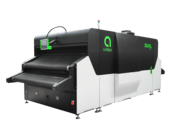 DUAL SMART
Key features of the DUAL SMART
Two conveyor dryers in a single footprint
Modular 3 meter and 4 meter oven lengths
Digital touchscreen Interface
On screen Temperature mapping (via optional temp mapping device). & Fault finding and service instruction videos.
Built in infeed/outfeed fume extraction system.
Easy to remove, tool free external panels.
Independent burners, airflow and temperature control over each conveyor level
Self-tensioning, self-aligning conveyor belts.
Rubber Covered Rollers enabling Nonslip conveyor.
Integrated vacuum hold down
Independent Burners
These independent burners give the flexibility to run two completely separate print runs, be it screen or digital, at the same time. Very much like running two dryers side by side, but saving you space and time.
Our original Dual dryer exceeded industry expectations and was revered by printers around the globe. We continue to push the boundaries and strive to enhance and develop the technology and features on the Dual.

Adelco continue to use the highest quality components, concentrating on high airflow and efficient exhaust systems whilst adding in practical and ingenious solutions for effortless maintenance. The result is the highest production dryer that leads the industry in terms of technical innovation, build quality, and low operating costs has been developed.

Mark Smith, Managing Director, Adelco
Full features and advantages of the Adelco Dual Smart
Modular 3 meter and 4 meter oven lengths
Self-tensioning, self-aligning conveyor belts.
Ergonomically position control panel interface, retractable for easy loading access.
Easy Access Air filter cleaning.
Easy Access Infeed and outfeed extraction filter cleaning
Exhaust residue trap.
Independent burners and airflow for each belt.
Updated quick access UV flame detection system.
Rubber Covered Rollers enabling Nonslip conveyor.
Built in infeed/outfeed fume extraction system.
Curing time and temperature history report.
On screen Temperature mapping (via optional temp mapping device).
On screen Fault finding and service instruction videos.
Pit stop internal cleaning.
Easy to remove, tool free external panels.
Make an enquiry now
Register your interest in the DUAL SMART now. We guarantee you won't be disappointed.