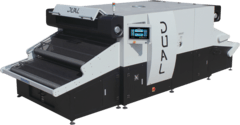 Adelco Dual Dryer
Key features of the Adelco Dual Dryer
Digital touchscreen Interface
Independent burners and temperature control over each conveyor level
Infeed / outfeed extraction
The world's highest production conveyor dryer
Integrated vacuum hold down
Two conveyor dryers in a single footprint
Energy efficient
Compact & streamlined design
The Adelco Dual Dryer is the world's highest production and energy efficient textile drying machine.
The Adelco Dual dryer gets its name from its unique design. The Dual dryer is a double belt conveyor dryer with separate heat chambers, airflow and exhaust systems for the top and bottom conveyor belts.
Experience the benefits of two dryers in one footprint with the Adelco Dual dryer range. With dual tunnels, the Dual dryer increases the high throughput capabilities in both digital and conventional textile print requirements, without increasing the size of the dryer.
Two dryers, one footprint.
With independent burners, time and temperature controls for each conveyor level, the Dual textile drying unit has the same production of two dryers in a single dryer footprint. The Dual dryer is the most technically advanced dryer on the market, curing digital inks in high volumes with such a small footprint.
All Adelco drying machines, including the Dual, and the range of Pro-Cure dryers, are fitted with internal exhaust hoods over the feed and exit sections of the oven. This provides a cleaner working environment without having to add optional extraction hoods and exhaust connections.
To find out more about the Adelco Dual Dryer, please download our brochure or contact us.
Mark and Leigh Smith have been in the industry a long time and are the only owner-owned manufacturer/distributors in the industry. They'll look at what you need and will then create a solution for you, rather than trying to find a product to fit you. That makes a huge difference. We've got six Ecotexes now and three Duals. The Dual is amazing, you can get a huge volume of digital through a very small area. And Steve, who's their main engineer, he's just brilliant, he really knows these machines.

Andy, T Shirt & Sons, UK
Full features and advantages of the Adelco Dual
Infeed & outfeed built-in extraction system.
15" HDMI touch-screen interface.
Automatic self-tensioning conveyor belts.
Independent belt-speed control on both levels.
Independent burners and temperature control on each level.
Production of two dryers in a single textile dryer footprint.
World's highest production & most energy efficient conveyor dryer.
Advanced balanced airflow system using high-powered jets & integrated vacuum hold-down on both levels.
Single internally integrated burner exhaust & extraction.
Independent exhaust extraction to maximise curing efficiency.
Compact & streamlined design.
Cure digital & Screen inks in high volumes.
These independent burners give the flexibility to run two completely separate print runs, be it screen or digital, at the same time. Very much like running two dryers side by side, but saving you space and time.
Vacuum Hold Down
Due to massive air flow from above the Dual has vacuum pull down, this sucks air from below and pulls the garments including thin fabric such as silk completely flat on the belt. This ensures maximum penetration and fastest curing times.
The airflow is so balanced that no hot air is pumped out of the machine, and no cold air is sucked in, reducing the carbon footprint and keeping energy costs to a minimum.
Related case studies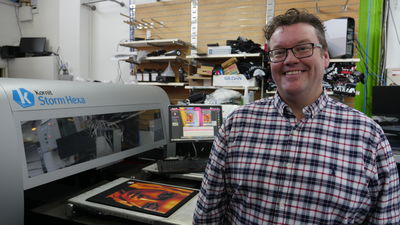 Nexgen
Adelco Dual Dryer
Weymouth based Nexgen upgrade to Kornit Storm Hexa & Adelco Dual Dryer
Read the case study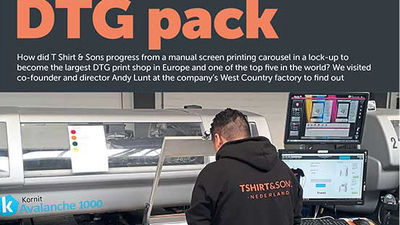 T-Shirt & Sons - 2018
Adelco Dual Dryer
Extracts taken from Images Magazine - March 18
Read the case study
Make an enquiry now
Register your interest in the Adelco Dual Dryer now. We guarantee you won't be disappointed.