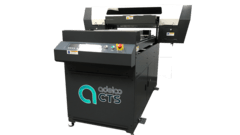 InkPro CTS System
Key features of the Adelco InkPro
High Resolution
Superior Image Integrity
Fast and efficient - Less than 60 seconds.
Easy to integrate
Low print costs around 10 pence/ US cents per screen
Print head maintenance module
Built in LED scanning exposure unit means screens are imaged and exposed ready to wash out.
Can print and expose a screen in just one minute
Pay for the system through savings in conventional film costs.
Reduce exposure times and spotting out of screens
Adelco InkPro System
Adelco's InkPro, is a high-speed, high-resolution industrial computer-to-screen imaging system based on inkjet printing technology, that directly generates and exposes opaque images on emulsion-coated screens with UV-blocking ink so that users can reduce the time and effort required for screen preparation.
High Resolution. Utilising the advantages of higher-resolution inkjet technology, Adelco InkPro has the ability to print computer-to-screen images with richer details and smoother halftone transitions, which are superior to traditional film positives.
Built-in LED exposure unit included as standard. The specially formulated UV-blocking ink also works well on ALL emulsions on the market.
Make an enquiry now
Enquire about purchasing the InkPro CTS System now.