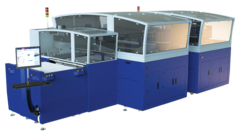 Kornit Vulcan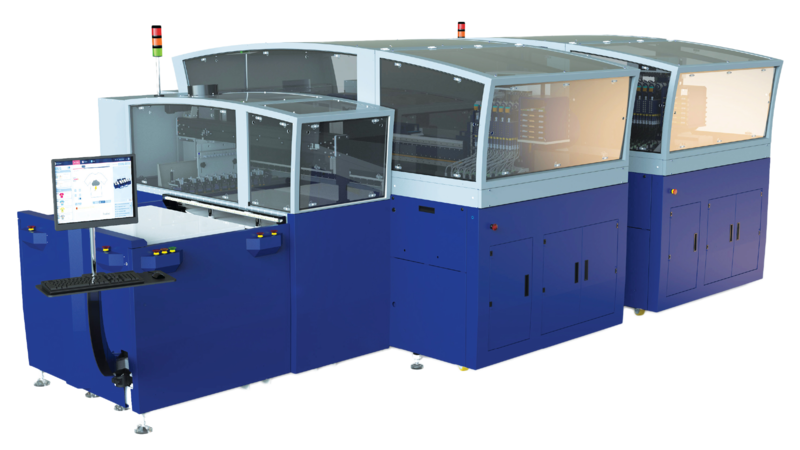 Kornit Vulcan
The Kornit Vulcan combats the challenges of mass customisation in digital DTG printing, with its optimised production workflow for ultimate efficiency.
Advantages and features
The most cost effective solution medium runs
Printing efficiency with parallel shirts printing
Drastically reduce turnaround times
upto 250 garments per hour, dark & light garments printed at the same speed
Process 7 shirts at the same time
Reduce by half cost per unit in medium runs
Excellent print quality: solids, photo-realistic, fine details, vivid colours
Optimized production workflow
Introducing the Kornit Vulcan
The Kornit Vulcan is Kornit's response to the challenges of mass customization. It was designed to meet the major trend of mass customisation, in both cost-efficiency and productivity. Now, screen printers that were struggling with less-profitable jobs will be able to increase their profit by converting to digital printing.
Changing the Break-even Point Screen printing was always cost-effective for long run jobs. To perform as efficiently as it does, screen printing requires screen making, setup time and labor intense processes. Long run jobs have always justified the operational costs. Today however, job run lengths are getting shorter, and most runs have no more than 500 copies of the same design. Jobs that have five to six screens and less than 500 copies are the Vulcan sweet spot and the break-even point between Vulcan and screen printing.
The Technology
The Vulcan is will be able of to produce producing up to 250 high quality garments per hour, with dark and light garments printed at the same speed. The Vulcan will produce excellent photorealistic quality, featuring 60 new-generation print-heads with an advanced recirculating ink system in a six-colour-plus-white configuration.
The system caters for multiple print sizes and configurations with a maximum print size of 70×100 cm / 27.5×39.5 in.
The Vulcan architecture is based on a new method of media transport. The parallel printing sequence allows high quality printing of light and dark garments at the same speed with a wide gamut. Like all other Kornit systems, the Vulcan was developed around the company's unique NeoPigmentTM patented printing process. Kornit's own water-based inks work on a variety of fibers (natural, man-made and blends) and allow for inline-pretreatment.
A retail ready production line
With the Kornit Vulcan, more textile printers and garment decorators can benefit from digital printing advantages which include drastically reduced turnaround times, mass customization capabilities and the elimination of setup costs, coupled with significantly reduced labor and manufacturing space.
Specs
| | |
| --- | --- |
| Print Heads | 60 heads |
| Max Printing Resolution | Up to 1,200 dpi |
| Ink | NeoPigment TM Rapid |
| Ink Channels | 7 Colours CMYKRGW |
| Max Production Output | Light & Dark garments : upto 250 |
| Printable Substrates | Cotton, Polyester, Cotton-Polyester Blends, Lycra, Viscose, Silk, Denim Linen and more |
| Dimensions | 735 x 212 x 345 cm |
Make an enquiry now
Register your interest in the Kornit Vulcan now. We guarantee you won't be disappointed.